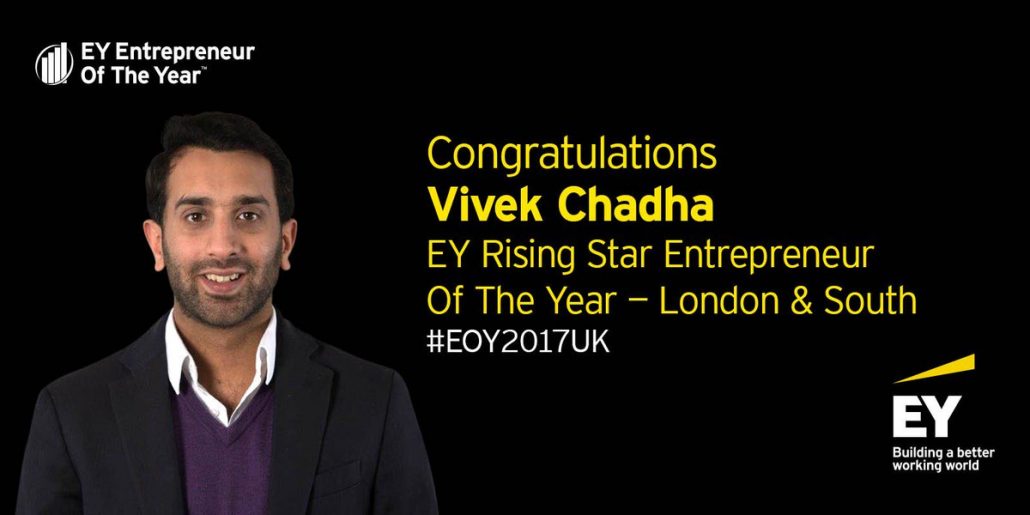 Simon Rogerson, Group Chief Executive, and Christopher Hulatt, Founder of London-based Octopus Capital, were named 'EY London & South Entrepreneur Of The Year 2017 overall winner' at an awards ceremony at BAFTA in the capital last night.
Whilst still on a graduate training programme 17 years ago, Simon and Christopher (aged 25 and 23 respectively) set up Octopus Capital with, in their words, 'no money and no experience.' They raised funds for the company when they had no products, no customers and no office. They describe how almost everyone believed they would fail, but their passion and 'terminator gene' saw them through. The investment company now has more than 500 people and manages £6 billion on behalf of more than 50,000 investors.
In the last few years Octopus has entered a number of new industries – most notably energy and healthcare – building care homes, hospitals, retirement villages, and special needs schools. It is also the third largest owner of renewable energy assets in the UK, capable of powering a city the size of Manchester with renewable energy.
Octopus dominates a number of the markets they operate in and are regularly voted the number one provider for customer service. Their aim is to turn their dream of "Octopus In Every Home" into a reality.
Simon Pearson, EY Entrepreneur Of The Year leader in London, said: "Set up in 2000, Octopus is a highly disruptive, customer obsessed business in the financial services, energy and healthcare sectors and is one of the fastest growing private companies in the world.
"Motivated by the opinions of their employees and customers and the impact they are making, Simon and Christopher want to breathe new life into the industries serving some of our most important needs and thereby improving the lives of millions of people."
Simon and Christopher of Octopus Capital, who also took home the Master award, were described by the independent panel of judges as 'fast growth' and 'disrupting an entire sector in renewables.'
Other winners:
In total 14 entrepreneurs from ten companies were honoured on the night, each winning an EY Entrepreneur Of The Year award in each of the following categories:
Disruptor – Dr Gordon Sanghera, Oxford Nanopore Technologies, based in Oxford – Technology to enable the analysis of any living thing, by any person, in any environment.
International – Clive Nation, Chief Executive Officer of Cennox based in Camberley – Cennox provide a varied portfolio of services to support the Banking & Retail industries.
Master – Adrian Binks, Chairman & Chief Executive of Argus Media Ltd, based in London – Argus is a leading provider of price data, news, analysis, conferences and consulting services to the energy and commodities sectors.
AND
Simon Rogerson, Group Chief Executive, and Christopher Hulatt, Founder, of Octopus Capital, based in London – Building highly disruptive, customer obsessed businesses in the financial services, energy and healthcare sectors.
Rising Star – Ella Mills, Brand Director, and Matthew Mills, CEO, of Deliciously Ella, based in London – Food and lifestyle brand.
AND
Vivek Chadha, Hotelier, Nine Group based in Watford – Nine Group owns and operates Hotels in London and in major cities around the UK. The business was founded by Vivek Chadha where he saw an opportunity to scale a hotel business due to the lack of supply in the UK regions and M25.
Scale Up – John Turner, CEO, Regulatory Finance Solutions Limited, based in Swindon – An independently owned regulatory management consultancy.
AND
Clare Johnston, Founder & co-CEO of The Up Group, based in London – The Up Group is Europe's leading digital executive search and networking firm. With over a decade of expertise in building outstanding leadership teams across the digital landscape, The Up Group offers unrivalled insight into the challenges facing companies going through disruptive growth and transformational change.
Transformational Leader – Gareth Hughes, Chief Executive of Marston Holdings (Marston) based in Essex – The UK's largest judicial services Group. It recovers unpaid debts, taxes and court orders on behalf of central government, local government and private creditors.
Building a Better Working World – Christopher Baker-Brian, Co-Founder, and CTO; Mansoor Hamayun, Co-founder and CEO; and Laurent Van Houcke, Co-founder and COO, of BBOXX Limited based in London – BBOXX is a venture backed company developing solutions to provide affordable, clean energy to off-grid communities in the developing world.
All regional winners (Scotland, North, Midlands and London & South) will head to London in October for the EY Entrepreneur Of The Year UK Final, where the overall UK winner will be announced and go on to compete with fast growth business leaders across the globe, for the title EY World Entrepreneur Of The Year 2018.
Special Award – EY Family Business Award of Excellence
During the ceremony, hosts EY presented a special award – Family Business Award of Excellence – to The Rubin Family – Pentland Group. A third-generation, family-owned business, Pentland is the name behind some of the world's best sports, outdoor and fashion brands, including: Berghaus, Speedo, Mitre, and Red or Dead.
Based in North London, the business has roots in the North West, with its founders setting up The Liverpool Shoe Company in 1932 with little more than £100 base capital. The company floated on the stock exchange in 1964, changing its name to Pentland in the 70s and bought a 55% stake in a small athletic footwear brand called Reebok USA for $77,500 in 1981. Pentland now has annual sales of USD $3 billion across 190 countries, and their brands are well-known by people all over the world.
Judges
The independent judging panel was chaired by Diane Foreman, one of New Zealand's most successful entrepreneurs, who is Chairman of the Chelsea Group. She was joined by Saleem Asaria, Chief Executive Officer, Cambian Group; Melissa Bethell, Managing Director, Bain Capital; Matthew Bridge, Principal, The Virgin Group; Kym Denny, Chief Executive Officer, hVIVO; Matt Isaacs, Founding Partner and Executive, Essence; Michelle Morgan, Founder and Managing Director, Livity; and Chris Sellers, Group Business Development Director, Capita.
Sponsors
EY Entrepreneur Of The Year is nationally sponsored by LGT Vestra and Merrill Corporation. The Financial Times is the programme's UK media partner.
https://ninegroup.com/wp-content/uploads/2017/09/DDWd0PuXoAAsRLn.jpg
600
1200
mercury8
https://ninegroup.com/wp-content/uploads/2021/03/Logo-update-v1.png
mercury8
2017-09-04 21:17:31
2017-09-04 21:33:44
Nine Group Founder Vivek Chadha Wins Ernst & Young Entrepreneur of the Year Award 2017